JOB OPPURTUNITY
Ghana Armed Forces: Guidelines For 2021 Recruitment Exercise
Ghana Armed Forces recruitment 2021 application registration form is what you are about to see here. There are many things you need to understand about Ghana Armed Forces before you apply Here online. In case you've not known before, Ghana Armed Forces 2021 recruitment is free.
All GAF applications should be submitted via the Ghana Armed Forces website/portal. You will need a valid email address to register now that the form is out. A lot of young men out there have been sending us messages regarding this year's GAF recruitment. We are here to inform those that are very much interested that the application is ongoing.
You Can Also Apply For === Ghana Fire Service Application
Without wasting so much of your time let start, but before that, if you face any problem when applying place due make use of our comments box section and tell us your problem you are facing. So now let's walk you through the simple step-by-step guide on how to fill Ghana Armed Forces recruitment 2021.
We will advise you to kindly calm down and read the full registration guidelines below. First, we would like to start with the Requirements or Eligibility of those that are made to apply.
General Eligibility For Ghana Armed Forces Recruitment 2021
Eligible applicant should:
All applicants must be Ghanaian citizen by birth.
Be of good character.
Not be less than 18 years and not more than 26 years by 06 June 2021 for Regular Commission and not more than the specified years by Thursday 02 May 2021, for the respective Short Service Commission applicants.
Must be medically fit by Ghana Armed Forces standard and Be not bonded.
Be not married (for Regular Officer Candidates only).
Be of a minimum height of 1.68m (5'6'') for males and 1.60m (5' 4") for females.
For Military Police only; the minimum height for male applicants should be 1.75m (5'9") and 1.70m (5' 7") for females.
Must Have The Following Education Qualification
BECE. Must have Six (6) Passes including English and Mathematics.
WASSCE. Must have Six (6) Credits (Not less than C6) including Core English and Core Mathematics.
Or
SSSCE. Must have Six (6) Credits (Not less than D) including Core English and Mathematics.
Or
GCE 'O' Level. Must have Five (5) Credits (Not less than 6) including English and Mathematics.
And
GCE 'A' Level. Must have Credits in all Three (3) subjects (Not less than D) and General Paper
DEGREE. Must have First Degree (Not below) Second Class Lower from a recognized University.
How To Apply For Ghana Armed Forces recruitment 2021
Once you have made up your mind to sever our great country and to apply for GAF recruitment 2021 all you need to do is to follow the guidelines right below.
Visit the official website portal @ https://officers.gafrecruitment.com/ to start applying.
Where you will equal to provide your personal data which includes: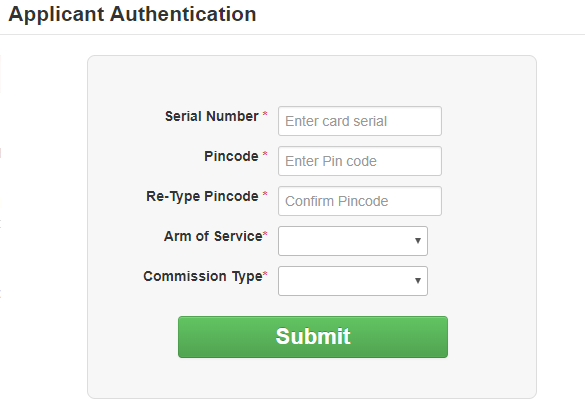 In the first box where you are made to type in your Serial Number.
The next box is for Pincode and retypes it on the next box.
Then Click on the box to select any of the following you want to apply; Airforce, Army, Navy.
After that chose your commission Type Regular or Short Service.
Once you are done with that CLICK on "SUBMIT" Button.
Instructions: 
Once Submitted, the information provided cannot be changed
If at any point during the application process, an applicant decides not to continue, simply close the page to discontinue without submitting. Applications are only saved when the submit button is clicked.
* Once a scratch card is used for the application, it cannot be reused to apply again.
Other Ghana Recruitment You May Be Interested
Do not miss == Ghana Fire Service Recruitment 2021
Ghana Fire Service Recruitment 2021
Ghana Immigration Service Recruitment 2021 Forms
Where You Can Get The Application Form
The first step for all interested candidates should be to buy a scratch card at FIFTY GHANA CEDIS (GH¢ 50) from the designated regional post offices.
The scratch card can be used three times until a record is successfully submitted. All the applicants should avoid mistakes or if not make use of our comments box so that we can assist you in a way we can.
Good Luck As you Apply for Ghana Armed Forces recruitment 2021. Do not forget to make use of our share buttons below to tell your friends about recruitment.