JOB OPPURTUNITY
Federal Government Teachers Recruitment | How To Apply Online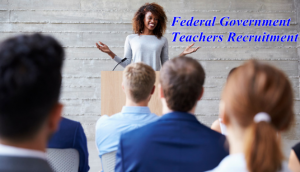 Federal Government Teachers Recruitment | How To Apply Online: Have you been thinking on how to apply for federal teachers recruitment online? We are here to do what know how to do. All the interested candidates should go through this article for all the information concerning this employment opportunity.
Are you passionate and energetic, and would like to work in a dynamic and challenging environment? If your answer to the above question is yes, then Teaching is a place for you to actualize your dreams.
READ MORE: Federal Civil Service Recruitment | How To Apply For (FCSC) Free
In this article, we are going to help you and guide you on the right way to apply; for Federal Government Teachers Recruitment. We are going to make it so easy for you to apply without assistance from your friends. All you have to do is to read up to this post on how to apply both online and offline.
Federal Government Teachers Recruitment | How To Apply Online
Requirements Of All The Candidates Before Applying.
That below you will find of the requirements all the Interested applicants have been mandated to follow before applying for the Job.
1.  Candidates must have the Nigeria Certificate in Education ('NCE,) get not earlier than 2014 from a well know College of Education fully accredited by NCCE.
2. If you are one of the Interested applicants who is currently working and receiving a salary or allowance from any organization Public and Private are not allowed to apply for this scheme.
3. The Applicants should not be more than 40years of Age so that you can be able to apply.
Now, you have seen all the requirements that applicants need to have before applying. Next step is areas of specialization.
Applicants Areas Of Specialization
We will like to look at areas of specialization for all Candidates. The areas of specialization are as follows.
English Language.
Mathematics.
Science.
Vocational Education.
Arts) Nigerian and Foreign Languages.
ALSO, READ MORE: Nigerian Stock Exchange Recruitment | Apply Here Now For
How To Apply For Federal Government Teachers Recruitment
To apply for Federal Government Teachers Recruitment is very easy and simple do; we will do our best to make it so simple for everybody to apply.
If your requirements are complete head to Universal Basic Education Board and Forward your CV to the office of the chairman.
Drop your phone number or email address if you will like us to inform you on the; Federal Government Teachers Recruitment How To Apply. Make use of our box below.