Immigration
Check EBSU Admission List 2018/2019 | EBSU Admission List Online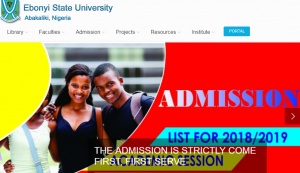 Check EBSU Admission List 2018/2019 | EBSU Admission List Online: Have you been waiting for EBSU Admission List? Through the comment section, we have received a lot of question from our visitors who ask when the when is EBSU going to releases their list. 
We are happy to inform you all that EBSU have finally released their admission list; we urge all it may be consigned to visit portal.ebsu-edu.net and check his or her name. It is the just first list that is out more list is coming if your name is not on the first list do not worry you still have a chance.
READ MORE: How To Apply For JAMB Change of Course and Institution
We original made his page for those who applied for 2018/2019 EBSU Admission. EBSU has made it very easy for you that you can check the admission list without meeting anybody for assistance. All you need to do is read down this post and see for your self.
How To Check EBSU Admission List 2018/2019
This is a procedure you can use to check for EBSU Admission list. The procedure is as follows.
Visit EBSU admission checking portal at https://emis.ebsu.edu.ng.
That the Under of  Admission Status enters your JAMB registration number in the required bar.
Click on 'Verify' key or button wait for a while to pop out on your screen.
You can view your EBSU admission status.
ALSO READ MORE: Post UTME Registration Guidelines | Post UTME Requirements
What you must NOTE: 1. It is free to check your admission status.
2. This list is just the first there are so many to come.
3. Do not pay money to anybody to add your name to the list.
Good Luck as you Check your admission status at our portal. We will like you to comment on our box if you are among the Luck once. And if your name is not on the list drop your email address or mobile phone number so that we can notify you when EBSU released another admission list.