INTERNET
Wema Bank Transfer Code | Mobile USSD Code Payments | Free Mobile Banking
Wema Bank Transfer Code – Nowadays at your comfort place of work or home you can do your banking transaction with your mobile device. Today, the bank has made banking easier and faster for their customers all over the country. With the code, you can use it without an internet connection.
The amazing part of it is that mobile USSD code payments and Transfer are very easy and simple to make use of with any kind of mobile. Which includes; Android, iOS, Windows and so many others. Wema Bank is one of the best banks here in Nigeria. It was established on May 2, 1945, as a private limited liability company under the old name of Agbonmagbe Bank Limited.
Check Out this Link====⇒ Access Bank Transfer Code 
Meanwhile, there are so many things you stand to benefits when you use Mobile USSD Code on your device. Before we will show you steps on how to use Wema Bank Transfer Code on your device; we will first outline the major benefits of Free Mobile Banking.
Features Of Wema Bank Transfer Code – Mobile USSD Code
Below are the benefits.
1. The services are available 24/7 to access.
2. USSD code saves us time.
3. Is very fast, simple and easy to make use of any time.
4. You can make use of the code with any kind of mobile device.
5. Without the internet, you can Transfer money to your business partners all over the country.
6. You can transfer to other Nigerian banks.
7. Transfer funds without visiting a bank branch.
And so many more. Now that you have seen some of the benefits of the code the next stage is to show you how you can Transfer money from Wema bank to another bank with a mobile device; and so many other things you need to know.
How To Register Before Using Wema Bank USSD Code
Dial *945*00# on the phone number you use to open your Bank Account. You can as well dial *945# to register.
After that, then press 0 and press 0 again to register your pin.
You can create a 4 digit pin, then follow the other instructions.
NOTE: Daily limit can be increased to N500,000 via WemaMobile, and WemaOnline. It will only Works on phone numbers registered when you opened the account.
Check your BVN with this Link====⇒ Bank Verification Number – Check Here
Wema Bank Transfer Code | Mobile USSD Code Payments
Once you made up your mind to start, dial *945# or dial *945*100#. (e.g) *945*Person Account Number*Amount#.
Check the number before you click on send button.
Make sure you follow the simple steps showed by the phone.
That is all…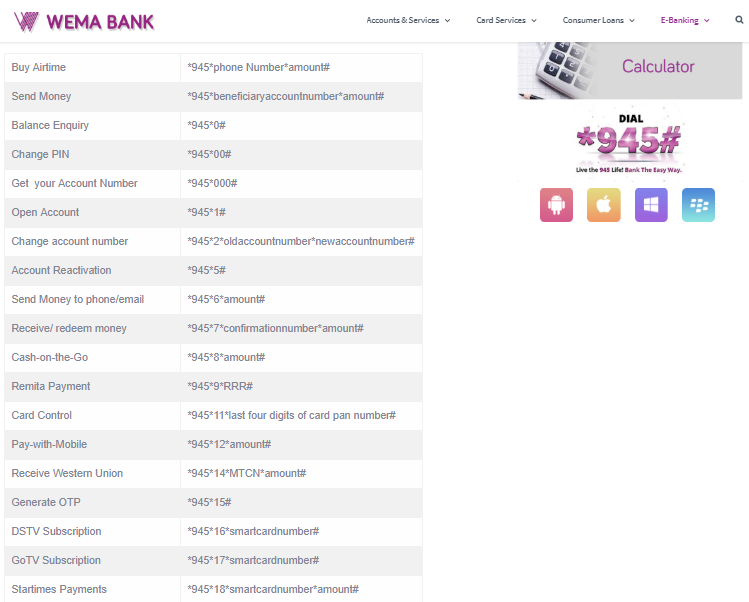 How To Recharge Airtime From Your Account via USSD code.
Simply dial *945*Amount# from your registered number.
Check the amount prompt before you click on the send button to avoid a mistake.
To Recharge for your family and friends.
Dial *945*Phone Number*Amount#.
NOTE: The Recharge card is available for all networks, just type in the network and input your PIN when showed and click on send button.
Feel free to tell us, what you think about the Bank Transfer Code if you have questions make use of the comment box. You can also share our page link on your social media accounts so that your friends will get to know about it. By using those buttons right below. Thanks as you share our page.
For more info CLICK HERE.