Immigration
The Best Ways To Kill Germs | How To Stop Germs Spreading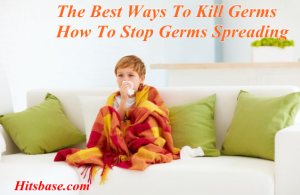 The Best Ways To Kill Germs | How To Stop Germs Spreading; Have you been asking Questing on how to Germs and the best ways to stop the Spreading of Germs; my dear you are at the right place to know how to kill germs.
Many people die today as a result of germs, even some babies die as early as the first three weeks of their lives. Some parents are careless, some are unhealthy; dirty and some do not know how to take care of their children. Some parents do not prepare their food in a well-kept place.
READ MORE: Effects Of Junk Food | Implications Of Junk Foods Consumption
These are some of the reasons why very young children catch diseases and die. Some of the diseases which kill these babies can be prevented because it is caused by germs. Therefore to make sure that babies do not die, we must make sure that babies are protected from germs.
The Best Ways To Kill Germs | How To Stop Germs Spreading
How To Stop Germs Spreading.
Germs can be found in any area of your home with high traffic and surfaces that get touched a lot. Now, we are about to outline some of the ways you can stop Germs from spreading in your environment.
1.  Keeping houses clean
To prevent germs from getting close to our house; we should sweep our house every day and scrub them at once a week you that germs do not live in a clean and tidy environment. No bush should be allowed to grow around the house. Cobwebs the house, clean and arrange the furniture in the house. Always wear gloves and open some windows when you use products with bleach.
2. Keeping utensils clean: utensils must be kept clean to avoid contaminating germs. They should be washed thoroughly scrubbed after use and properly stored in a clean environment. The best way to wash forks, spoons and knives are to be soaked in boiling water for some minutes after use to kill germs. Utensils used for baby's food must be kept properly clean.
3. Boiling: We boil water before drinking it to kill germs in it because germs cannot stand the heat from boiling water. Water from a river, lake, and pond is not good for drinking unless it is first boiled. Drinking unboil water containing germs can cause such water-borne disease like cholera. This disease is dangerous; our clothes can harbor many germs if not properly washed, ironed and even boiled at times. Cloth worn by lepers and those who suffer from other infectious diseases should be boiled to kill germs and to protect others from the diseases.
ALSO, READ MORE: Child Nutrition Feeding | Importance Of Childhood Nutrition
4. Keeping germs out of food:
Keeping germs out of foods can be done in the following ways:
(a) Drying method; This is one of the ways fruit and meat can be preserved by drying them to get rid of some germs.
(b) Salting; salted food especially meat can keep pure for a long time.
(c) Smoking: fish and meat are preserved by smoking and dry to get rid of germs.
(d) Cold: food kept in a cold place stays fresh and a long time. People use cold room and refrigerators to preserve their foods and keep it free from germs.
We will like you to comment on our box right below. You can share with your family and friend on your social media.