SCHOLARSHIP
NYSC Senate List 2023 Check All Institutions Batch Prospective Corps
NYSC Senate List 2023 – National Youth Service Corps is a scheme, set up by the Nigerian government to involve Nigerian graduates in nation-building and in developing the country.
After the civil war, the federal government put together this program to unite the country. If you may ask, what is the NYSC senate list? Is a List that compiles approved Institutions whose students that are done with their Bachelor"s Degree and Higher National Diploma programs are eligible.
To be mobilized for the one-year compulsory national service. If your name is not among the list you be disqualified for the one year program.
CLICK HERE to know the === Current NYSC Allawee For All States In Nigeria
Meanwhile, on this page, is made to assist young Nigeria graduates that are due for the one-year program. You are advised to read this page and guidelines very carefully. You don't need to rush it we will like you to take it one step at a time, as not to make mistakes. This program has been on, since 22 May 1973 as an avenue for the reconciliation, reconstruction, and rebuilding of the nation.
Steps To Check NYSC Senate List 2023 
1. What you have to do first is to visit the NYSC registration portal via use this web page right below;
https://portal.nysc.org.ng/nysc3/VerifySenateLists.aspx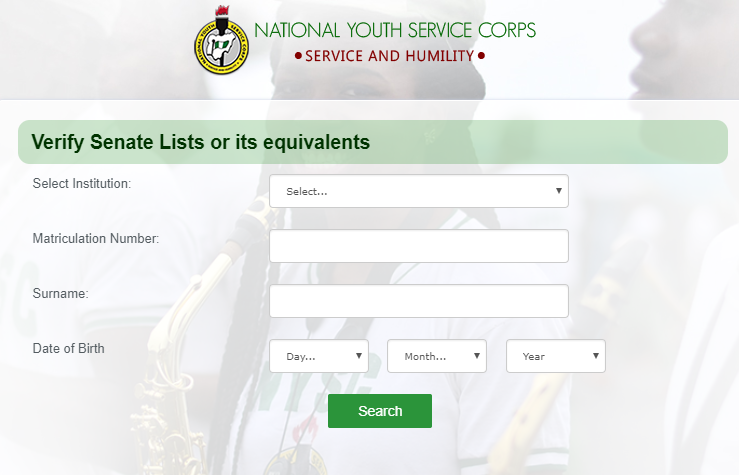 2. Once the portal loads up, select your Institution (e.g Institutions you graduated from).
3. Next thing is to type in or enter your Matriculation Number and Surname in the box provided,
4. Then select your date of birth,
5. The final part of it is to CLICK on the SEARCH button/tab to access the mobilization list.
Your name will appear on the device screen if your name is on the list. Guys above are the procedures to take while checking your name on the Senate list. We will now tell you what you need to know about the National Youth Service Corps.
What you need to know about NYSC
If you have seen your name on the list do not mean that you will be leaving for the camp immediately. They have different  Batchs and Streams, which includes Batch A and Batch B with Stream I and II.
During the registration process, the following documents will be requested from you by the registration officials:
Your call-up letter.
Your last institution ID card
Original certificates/statements of the result.
NYSC Registration is free if you will like to start your registration CLICK HERE to start.
NYSC ANTHEM
It is always good to be ahead of others, we will like to teach you how NYSC is been said.
"Youths obey the clarion call
Let us lift our nation high
Under the sun or in the rain
With dedication and selflessness
Nigeria is ours, Nigeria we serve.
Members, take the great salute
Put the Nation first in all
With service and humility
NYSC for the noble youths
Make Nigeria a great nation.
Far and near we come to serve
And to build our fatherland
With oneness and loyalty
NYSC for unity
Hail Nigeria, our great nation."
We will like to know what you think about the NYSC Senate List 2023 and if you have any question(s), make use of the comments section below and do not forget to use the share buttons to tell your friends on social media about NYSC Senate List.