JOB OPPURTUNITY
Ghana Armed Forces Recruitment 2021 Application | Apply Now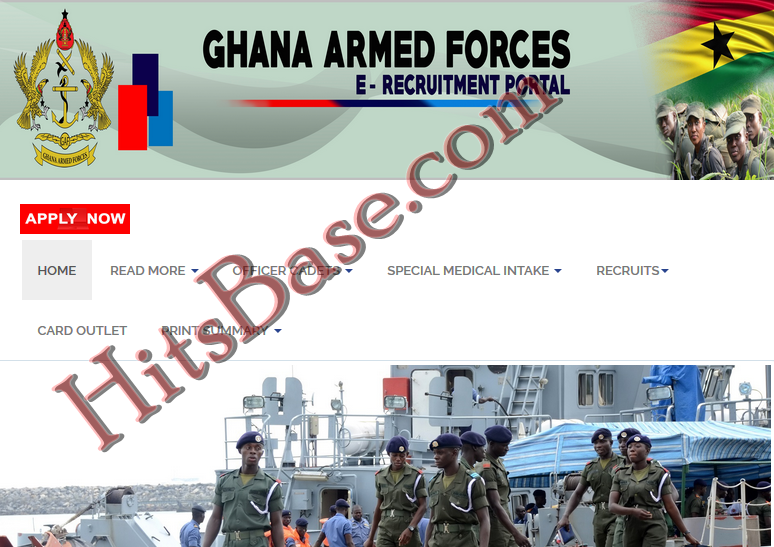 Ghana Armed Forces Recruitment 2021 Application will be out soon as for today the officials of Ghana Armed Forces are meeting to plan for the Ghana Armed Forces Recruitment which builds to happen this year 2021.
Everybody will like to join the Ghana Armed Forces and you do not have enough information about the recruitment. On this page, we are going to give you every information about; 2021 Ghana armed forces news, how to apply also all the requirements, and other things.
This year Ghana Armed Forces are planning to recruit not less them 45, 000 officers to beef up security and order in the country. All the interested candidates are advised; to keep in touch with this website to get the latest; news on Ghana armed forces recruitment.
READ MORE: Ghana Army Recruitment 2021 | GAF Application Guide And Requirement
Meanwhile, we are going to outline all the requirements of Ghana armed forces application forms. Without wasting so much of your time let's go on and outline the requirements needed to apply online. 
Eligible Applicant
Mostly, the interested candidates have been asking of the general election for Ghana Armed Forces Recruitment. The more reason we created this page to help millions of young Ghanaians. The eligible is as follows.
a. Be a Ghanaian citizen by birth.
b. Be of good character.
c. Be not less than 18 years of age and not more than 25 years for Non – Tradesmen and not more than 27 years for Tradesmen by 1 September 2021.
d. Be medically fit by Armed Forces standards.
e. Be not married.
f. Be not bonded.
g. Be of a minimum height of 1.68m (5'6") for males and 1.57m (5'2") for females. For Military Police only; be of a minimum height of 1.75m (5'9") for males and 1.70m (5'7") for females.
h. Have six (6) Credits (not less than Grade 6)at BECE including English and Mathematics.
i. Have five credits (not less than Grade C6) in WASSCE, including Core English and Core Mathematics or the requisite credits/passes in respective trade qualifications from GES at Intermediate or Advanced Level.
Above is the eligible,  next stage we are going to outline many things you need to know about Ghana Armed Forces Recruitment.
What You Must Know About Ghana Armed Forces Recruitment 2021
Things all the interested candidates need to know so that you will not make a mistake. Below are must know for all candidates.
All the candidates are to acquire a scratch card at FIFTY GHANA CEDIS (GH₵50.00).
Applicants are required to carefully read through the requirements for clarification before application.
You will be asked to upload a  scanned copy of your following:
a)Passport-sized photograph of dimension (170 x 150 pixels).
b)WASSCE or SSSCE Certificate and Degree Certificate.
DO NOT MISS: Truecaller App Download | Truecaller App Install
Formats To Apply For Ghana Armed Forces Application Form
Here are the steps you follow to apply the Ghana Armed Forces Recruitment 2021, which are as follows.
The first thing you need to do is to purchase a scratch card at FIFTY GHANA CEDIS (GH₵50.00).
Neatly, scuff the surface of the scratch card to view the pin code.
Ensure to log in to recruitment portal via  http://www.gafrecruitment.com.
Press on the Apply Now tabs to show the applicant's genuine page.
Type in your card serial number, pin code and select your most desired arm of service, type of commission, and click submit.
Provide your personal data on the given space and memorize the following.
a. Choose your most wanted vacancy and render all other required data needed.
b. Upload a scanned copy of your passport-sized photograph of dimension (200 x 180 pixels), enter a valid e-mail address, personal mobile phone number in the format (233244123456), and enter any other required data.
c. Enter your WASSCE/SSCE Index number, WASSCE/SSCE results slip serial number, and select a tertiary institution from the list of schools.
Enter your graduating GPA/CWA and provide all other required data. Upload only scanned copies of the following: WASSCE Results Slip and First Degree Certificate (Degree, HND).
Click on the flashback button to view a miniature form of all data provided. Review this page carefully and click on the back button.
Click on the submit button and await an instant e-mail and text message, which includes your unique system-generated Identification Number.
Print and keep a copy of the generated report as you will be required to present it if you are shortlisted.
Please note
For your questions and contributions on the Ghana Armed Forces Recruitment 2021 Application and Apply Now do make use of the comment box below and we shall get back to you immediately. We Love you.