NEWS
National Identity Card Check | National ID Cards Ready For Collection
As we all know that the National ID Card is our Identity to show that we are a citizen of this great country, as it gives us the right as a citizen. Aside from that, the card is also an important Identity that is why institutions like Banks and other organization will always request you present any Governmental ID card – which the National Identity Card Check is involved.
If you have enrolled or applied for the NIC then I wish to let you know its time for collection, and the Nigerian Identity management commission,  (NIMC) has made it easy for Nigerian to obtain National ID Cards and check their ID registration status online.
To know if your Permanent Voter's Card is ready CLICK HERE
The National Identity Card Check process includes checking if your card is out and destination for the collection of the card. And if the card isn't out yet, you will also be notified about it.
So this saves all the stress going around in search of where to collect or apply for the National ID. The online National ID Status Checker portal is free of charge.
This page should guild you through checking your ID Card Status, to know if its ready for collection.
Let's show you all the steps…
Please do note that you can always use your mobile phone or computer to complete the task below.
National Identity Card Check Step-by-Step Guide for NIC Status Checker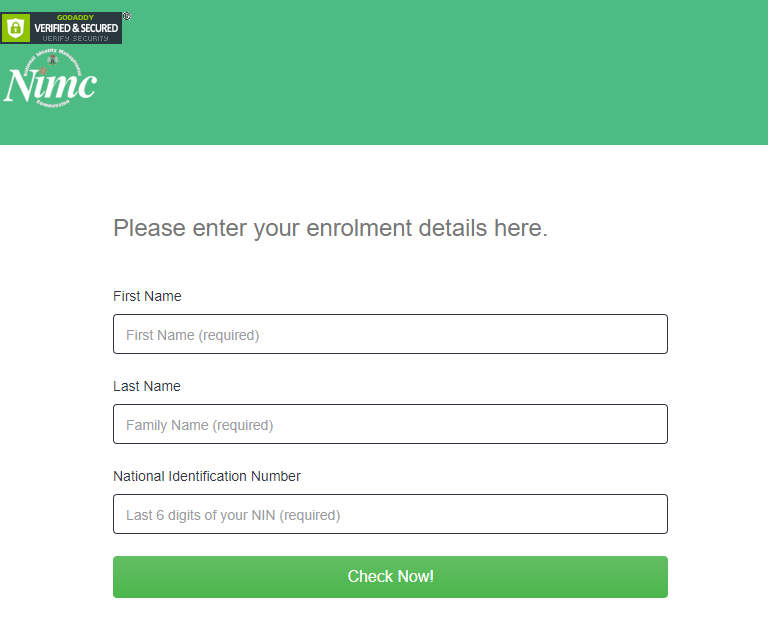 log on to https://touch.nimc.gov.ng/
The first drop-down request you type in your "First Name". This is the Name you enrolled for the NID Card.
Next box, you have to enter ONLY your "Last Name". Must be the same with the Last Name you provided during the registration.
Type in the last six(6) digits of NIN
Once all the information provided are correct, proceed to click on "CHECK NOW".
Wait a while for the page to load and provide the information/status of your NIN'S card.
Do not miss to Create A Tumblr Account
What Next After Checking?
If your card is ready, then you should see go for collection. Now you don't have to waste any more time going standing on the queue because you know your card is ready for collection.
Also, take your timeshare this page to other finding it difficult in checking their NIC status and to know it is ready for collection.
Use the comment box below if any challenges arise or whether you have further question regarding checking their NIC status and collection. We are here to assist you with every information you need.