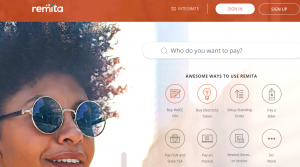 We will teach you how to Sign Up with Remita and make your e-payment, Steps to generate remit retrieval reference (RRR). With this guide, you will be able to pay for licenses renewals, School fees payment, PHCN NEPA bills, FIRS Taxes, Corporate Affairs Commission and more
Remita launched in 2005, Remita is developed 100% in Nigeria by System Specs to the highest international standards and meets the needs of the local market for a secure, integrated, efficient and cost-effective solution.
Now, with Remita, making payments to the Federal Government has become easy. Besides being able to pay at bank branches all over Nigeria, you can also make payments online to any federal government MDA.
READ MORE: Free Facebook Account – How To Sign Up, Create Facebook Account
The aim of our team is to guide you on best way to sign up for Remita account  my dear are at the right place or website, if you are a student or a businessman and you have not signed up to Remita you are missing something and if you have you are fast ahead of others that do not have you can  make payment and receive money to your bank account without being at the bank.
Remita Sign Up How To Make e-payment
Guide To Sign Up To Remita Step By Step.
Do you know that Romita has three (3) types of Application, which includes
1. PERSONAL Best for individual lifestyles.
2. CORPORATE Best for multi-signatory and multi-level business organizations.
3. GOVERNMENT Best for MDA's, Local, State and Federal Government.
Features of Remita Payment
We are going to show you the amazing Features of Remita, this is the major reason why Remita stand out among every other online e-payment in the word.
1. To sign up for Remita is 100% Free.
2.Transfer money to one or multiple friends, family members or service providers easily.
3. Receive Funds through Debit/Credit Cards, Branches of all Banks Nationwide, POS, Online Banking.
4. Public and private sector organizations Can use Remita Payment.
5.Transfer money to one or multiple friends, family members or service providers easily. And those recurring utility or government bills Not a problem. Schedule and settle them in a breeze.
6. Buy Airtime and Data And so much more.
How To Sign Up To Remita Step by Step
Just follow this Amazing simple procedure to create your free account following this simple steps that we have written below with the image.
Visit the website via www.remita.net
Type in your email address
Your first name and surname
Enter your phone number
Please make sure you click on I'm not a robot
And click on proceed
You see it is very simple to set up or create a new account by your self without meeting anybody for help.
Step by Step on How To Login To Your remita account
All you need to sign in into your new account is to follow the image below, all you need is to follow our guidelines. Your personal email and your password and click on sign in.
How To Generate RRR Code From Remita.net
Irrespective of what you want to do at remita.net, you will be required to have
Your own unique rrr code.
Pay a remit biller customer.
Resend invoice receipt and Pay salaries.
Agency to Pay a federal government.
Pay an electronic invoice.
Pay FIRS taxes.
Sign up to receive payments.
Pay state government and agencies.
How To Use Remita To make e-Payment
Visit www.Remita.net and click on "Pay for my bills" button.
Type in the Beneficiary Name in first space that has been provided. This has to do with the name of the institution you want to pay the money to.
Select the name of service or state the purpose of payment in the drop-down list provided.
This you should by typing describe what you are paying for.
Type in the amount that you want to pay.
Enter your full name.
Your email address.
Type in your phone number.
Enter those characters in the image into the box below it. Basically for security purpose.
Click "Proceed to Payment".
You can Share page link on your social media accounts so that others can also know about it, make your comment and contribution if you find any difficulty while remita Sign Up and we shall get back to you immediately.