ENTERTAINMENT
How To Pay For DSTV Subscription 2019 | New Payment Methods Step Guide
How To Pay For DSTV Subscription 2019 – DSTV is a home for all superstars all over Africa and world at large. Is a Sub-Saharan African direct broadcast satellite service owned by MultiChoice. Every year DSTV always comes out with new things like new channels and so much more.
So many customers have been asking us questions regarding on how to Pay For DSTV Subscription online without going to Multichoice Africa branch nearby. The questions that we have been receivers are as follows;
Is it free to pay Subscription online?
What steps will I use to pay My DSTV Subscription?
How do I pay with Quickteller?
And so many other questions that we don't outline on this page. We will make sure we answer your questions after this discussion.
Use this Link to ====⇒ Watch Dstv On Android and iPhone Free
We will make it very fast for everyone. This page is A-Z guidelines on how to make your payment from the comfort of your home or workplace at any time of the day.
Is it free to pay Subscription online?
Most of our customers are asking if is free to pay DSTV subscription online? To answer your question; yes it is FREE to pay your bill through online without extra money added for you to pay. It is very easy, fast and affordable to make use of any time.
So always make use of our online payment whenever you want to pay for your DSTV Subscription.
How To Pay For DSTV Subscription Steps
There are so many where ways to subscribe your DSTV without visiting any Multichoice branch nearby because of what you are doing at the time.
You can pay your subscription through your Bank account using your mobile phone.
With Quickteller is more easy and fast to customers all over Africa.
Subscribe Through Your Bank Account Using Your Mobile Phone.
Kown that before you can use your mobile phone device you must have downloaded the DSTV App on your mobile. To Download CLICK HERE.
Once it's done downloading  Launch your DSTV app from your phone.
Sign in with your PIN.
CLICK on "Pay Bills".
Select "CableTV bills".
Select "Dstv Subscription".
After that Select the DStv package you want to pay for.
Type in your Smartcard number in the box provided for you and the amount.
Then type in your phone number.
Use the "continue" button to complete the payment process.
After that what Next?
You have to check to know if you made did the right thing. What you will do is to Use the phone number you used when you bought the DSTV decoder.
Use that number and Text "RA first 10digits of your smart-card number" to 30333.
As soon as you send that number you will know if you did the right thing or not.
DO NOT MISS ====⇒ New Big Brother Naija 2019 Audition Date
How Do I Pay With Quickteller?
You can as well use Quickteller by following these steps below.
Log on to Quickteller By Clicking HERE.
Select the DStv bouquet of your choice.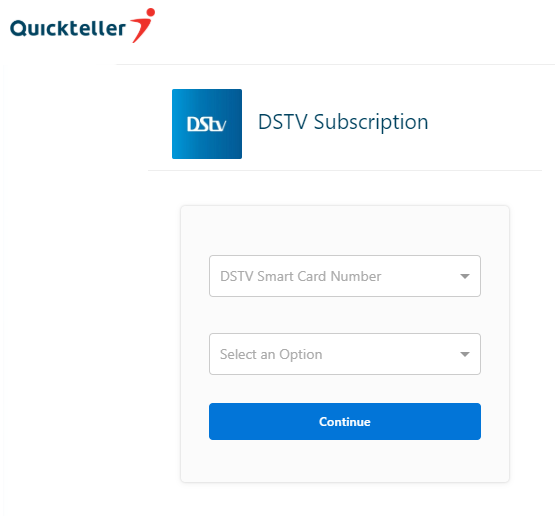 Click Continue Button.
Subscriber's name will pop out and the smartcard number for you to check if it was filled correctly.
Click on the following; Interswitch, Verve or MasterCard.
Type in your card details which includes; three-digit found at the back of the card, Card Number and Expiry Date as inscribed on your debit card.
After that Click at the PAY button.
Enter your Token code.
Congratulations if you followed those steps above without making mistakes.
That is it…
Make use of our comments box if you find it difficult while using the New Payment Methods Step Guide. We are here for you any time of the day.